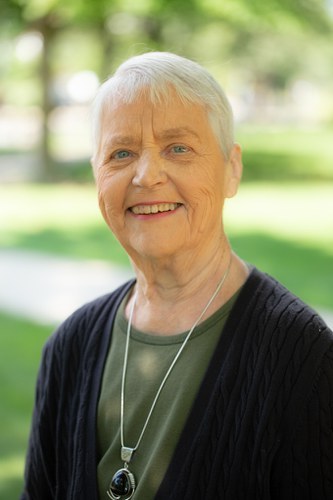 Audrey

Maretzki

,

Ph.D.
Professor Emeritus of Food Science and Nutrition
218 Rodney A. Erickson Food Science Building
University Park
,
PA
16802
Education
University of Pittsburgh, Ph.D., Higher Education, 1978
Pennsylvania State University, M.S., Nutrition, 1960
Pennsylvania State University, B.S., Home Economics, 1957
Research Interests
SUSTAINABLE FOOD SYSTEMS: How community residents can understand and influence public and corporate decisions that affect their food system.
COMMUNITY CANCER CONTROL: The development of community cancer control coalitions in rural Appalachia
INTERNATIONAL DEVELOPMENT: Involvement of rural Kenyan women in the formulation, processing and marketing of weaning foods from locally available ingredients.

Extension Programs
Food, health and agricultural policy
Community nutrition
Community food security 

Recent Publications
Public Issues Education: Increasing Competence in Resolving Public Issues. Dale, D.D. and Hahn, A.J. (eds.). Public Issues Education Materials Task Force of the National Public Policy Education Committee and PLC and PDOC subcommittees of the Extension Committee on Organization and Policy. Madison, Wisconsin: University of Wisconsin-Extension, 1994 (A. N. MARETZKI, Contributor).
MARETZKI, A. N., Case Study: The Northeast Network for Food, Health and Agriculture, in Food Security in the United States: A Handbook for Public Issues Education, Nancy B. Leidenfrost and Jennifer L. Wilkins, Eds., Cooperative Extension System, USDA, 1994.
Achterberg, Cheryl L., Barbara Van Horn, AUDREY MARETZKI, Donna Matheson and Gina Sylvester, "Evaluation of Dietary Guideline Bulletins Revised for a Low Literate Audience", Journal of Extension (Electronic), Vol. 32, Number 4, December, 1994.
MARETZKI, A, Ward, A and Harris, G., Northern Appalachia Leadership Initiative on Cancer, Chapter 11 in Sowing Seeds in the Mountains - Community-Based Coalitions for Cancer Prevention and Control, edited by Richard Couto, Nancy Simpson and Gale Harris, The Appalachia Leadership Initiative on Cancer, Cancer Control Sciences Program, Division of Cancer Prevention and Control, National Cancer Institute, 1995.
MARETZKI, A., Cancer and Culture in Northern Appalachia, in Cancer and the Cultures of America, Proceedings of the President's Cancer Panel Meeting, November 30, 1994.
Karr, K.J., A.N. MARETZKI and S.J. Knabel, Meat and Poultry Companies Assess USDA's Hazard Analysis and Critical Control Point System, Food Technology Volume 48 No. 2, February 1994, p.p. 117-122.
MARETZKI, A.N., Public policy education lessons learned from the Northeast Network project. In Increasing Understanding of Public Problems and Policies-1991, Farm Foundation, Oak Brook, IL,.
MARETZKI, A.N. Policy education in support of a heart-healthy food supply. In: Beating Heart Disease in the 1990's: Proceedings of an international conference, Health Education Authority, London, England, 1991.
Baharanyi, N., R. Zabawa, A. MARETZKI, and W. Hill eds. Public and Private Partnership for Rural Development; Proceedings of the 48th Annual Professional Agricultural Workers Conference, Tuskegee University, Tuskegee, AL, 1990.

Selected Funding Sources
W.K. Kellogg Foundation
U.S. Agency for International Development
National Cancer Institute
Pennsylvania Department of Agriculture
USDA/Extension Service
USDA/ Cooperative State Research Service