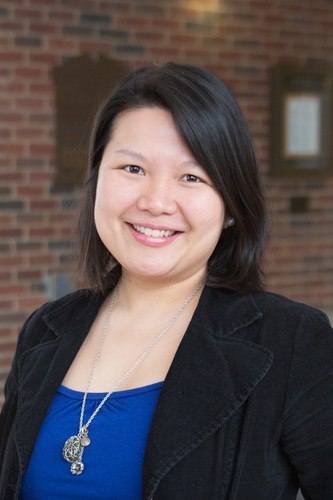 Josephine

Wee

,

Ph.D.
Assistant Professor of Food Science
432 Rodney A. Erickson Food Science Building
University Park
,
PA
16802
Areas of Expertise
Food microbiology
Food safety
Genomics of food-associated fungi (Mycotoxins)
Evolutionary biology
Toxicology
Nutritional immunology
Education
Postdoc, Nutritional Immunology and Toxicology, Michigan State University, Michigan
Postdoc, Evolutionary Biology, Cornell University, Ithaca, New York
Ph.D., Food Science and Environmental Toxicology, Michigan State University, Michigan
B.S., Food Science, Michigan State University, Michigan
Research interests
Environment-Genome Interactions
"Let your food be your medicine"  - Hippocrates
My research group is multi-disciplinary, covering topics ranging from microbiology, molecular biology, and nutritional immunology, to toxicology. A major goal of our research program is to understand interactions between the environment (exposome such as environmental triggers, toxins, and diet) and mechanisms of gene regulation (genome) in determining health and disease in animals and humans. 
Projects in our laboratory fall within two broad program objectives: 1) determine how microbial evolution shapes specific genetic signatures in foodborne fungal and bacterial pathogens, and 2) understand mechanisms by which environmental toxicants and food constituents modulate health and disease. We are particularly interested in how diet and food can block or prevent the onset of autoimmune disease such as lupus.
Awards and Honors
2014-2015 Liberty Hyde Bailey Scholars Program, Graduate Fellowship Award in Teaching (Michigan State University, USA)
2014 German Excellence Program Recipient, Jena School of Microbial Communication (Hans Knöll Institute, Germany) 
2009 Marshall Plan Foundation Scholarship Recipient (BOKU Vienna, Austria)
2008 Delton and Dianne Parks Scholarship Recipient, Department of Food Science and Human Nutrition (Michigan State University, USA) 
2008 Virginia Dare Undergraduate Award Recipient
Publications
2018
Kenne, G., Gummadidala, P., Omebeyinje, M., Mondal, A., Bett, D., McFadden, S., Bromfield, S., Banaszek, N., Velez-Martinez, M., Mitra, C., Mikell, I., Chatterjee, S., Wee, J., Chanda, A., 2018. Activation of Aflatoxin Biosynthesis Alleviates Total ROS in Aspergillus parasiticus. Toxins (Basel). 10, 57. doi:10.3390/toxins10020057
2017
Gomaa, O.M., Selim, N.S., Wee, J., Linz, J.E., 2017. RNA Seq analysis of the role of calcium chloride stress and electron transport in mitochondria for malachite green decolorization by Aspergillus niger. Fungal Genet. Biol. 105, 1–7. doi:10.1016/j.fgb.2017.05.003
Mmongoyo, J.A., Nair, M.G., Linz, J.E., Wu, F., Mugula, J.K., Dissanayake, A.A., Zhang, C., Day, D.M., Wee, J.M., Strasburg, G.M., 2017. Bioactive compounds in Diospyros mafiensis roots inhibit growth, sporulation and aflatoxin production by Aspergillus flavus and Aspergillus parasiticus. World Mycotoxin J. 10, 237–248. doi:10.3920/WMJ2016.2107
Wee, J., Hong, S.-Y., Roze, L., Day, D., Chanda, A., Linz, J., 2017. The Fungal bZIP Transcription Factor AtfB Controls Virulence-Associated Processes in Aspergillus parasiticus. Toxins (Basel). 9, 287. doi:10.3390/toxins9090287
2016
Wee, J., Day, D.M., Linz, J.E., 2016. Effects of Zinc Chelators on Aflatoxin Production in Aspergillus parasiticus. Toxins (Basel). 8, 171. doi:10.3390/toxins8060171
2015
Roze, L. V, Laivenieks, M., Hong, S.-Y., Wee, J., Wong, S.-S., Vanos, B., Awad, D., Ehrlich, K.C., Linz, J.E., 2015. Aflatoxin biosynthesis is a novel source of reactive oxygen species--a potential redox signal to initiate resistance to oxidative stress? Toxins (Basel). 7, 1411–30. doi:10.3390/toxins7051411
2014
Linz, J.E., Wee, J., Roze, L. V., 2014. Aflatoxin biosynthesis: regulation and subcellular localization, in: Martín, J.-F., García-Estrada, C., Zeilinger, S. (Eds.), Biosynthesis and Molecular Genetics of Fungal Secondary Metabolites. Springer New York, pp. 89–110. doi:10.1007/978-1-4939-1191-2_5
Linz, J.E., Wee, J., Roze, L. V, 2014. Aspergillus parasiticus SU-1 genome sequence, predicted chromosome structure, and comparative gene expression under aflatoxin-inducing conditions: evidence that differential expression contributes to species phenotype. Eukaryot. Cell 13, 1113–23. doi:10.1128/EC.00108-14
2013
Hong, S.-Y., Roze, L. V, Wee, J., Linz, J.E., 2013. Evidence that a transcription factor regulatory network coordinates oxidative stress response and secondary metabolism in aspergilli. Microbiologyopen 2, 144–60. doi:10.1002/mbo3.63
2011
Roze, L. V., Chanda, A., Wee, J., Awad, D., Linz, J.E., 2011. Stress-related Transcription Factor AtfB Integrates Secondary Metabolism with Oxidative Stress Response in Aspergilli. J. Biol. Chem. doi:10.1074/jbc.M111.253468