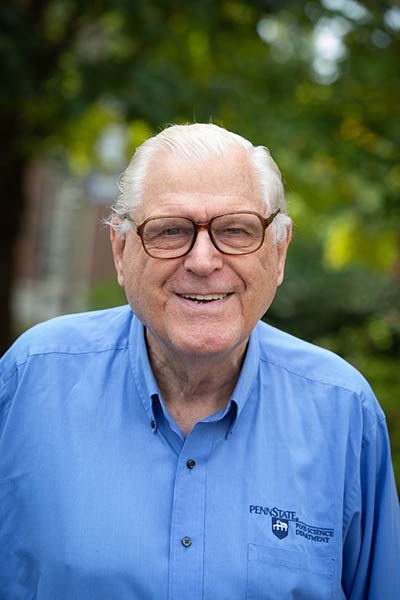 Manfred

Kroger

,

Ph.D.
Professor Emeritus of Food Science; Professor of Science, Technology and Society
221 Rodney A. Erickson Food Science Building
University Park
,
PA
16802
Education
Ph.D., Penn State University, Dairy Science (biochemistry, analytical chemistry), 1966.
M.S., Penn State University, M.S. Dairy Science (food flavor chemistry), 1963.
B.S., University of Manitoba, Canada, B.S. Dairy Science (minor in biochemistry, microbiology), 1961.
Professional Trade School in Muenster, W. Germany, Apprenticeship in Dairy Processing Industry.
I. Kant Gymnasium, W. Germany, High School Diploma, 1951.
Research Interests
Pesticide residues; food additives; food protection; processing of milk and manufacture of dairy products; food analysis; fermented milk and probiotics; food laws and regulations.
Courses currently taught (at retirement in 1999):
FD SC/STS 105 (Food Facts);
FD SC 200 (Introduction to Food Science)
FD SC 407 (Toxicology);
FD SC 417 (Laws & Regulations);
FD SC/ERM 423 (Pollutants and Food)
(earlier courses: Dairy Technology, Food Analysis, Freshman Seminar)
Recent Publications
Kroger, Manfred. 1993. Kefir. Cultured Dairy Products Journal Vol. 28, No. 2, pp. 26, 28, 29.
Kurmann, J. A., Rasic, J. L., and Kroger, M. 1992. Encyclopedia of Fermented Fresh Milk Products. Van Nostrand Reinhold, New York. 368 pages.
Barrett, S., Jarvis, W. T., Kroger, M., and London, W. M. 1997. Consumer Health: A Guide to Intelligent Decisions (7. Edition. McGraw-Hill, New York, NY. 608 pages.
Barrett, S., London, W.M., Baratz, R.S., and Kroger, M. 2007. Consumer Health: A Guide to Intelligent Decisions (8. Edition). McGraw-Hill, New York, NY. 595 pages.
Professional Activities (current)
Scientific Editor, Comprehensive Reviews in Food Science and Food Safety
Associate Editor, Journal of Food Science
Scientific Adviser and Report Collaborator, American Council on Science and Health
(previous):
Co-editor, Nutrition Forum
Technical Editor, Prometheus Books, Buffalo, NY
Editorial Board Member:
International Dairy Journal,
LWT Journal (Swiss Food Science Society);
Milchwissenschaft (German Dairy Science Association);
Cultured Dairy Products Journal; 
Prevention Magazine (Rodale Press).
Board of Trustee Member, Drinking Water Research Foundation, Washington, DC
Institute of Food Technologists (IFT):
Science Communicator;
Secretary- Treasurer and charter member, Dairy Technology Division;
Charter member and former chair, Food Laws & Regulations Division;
IFT Fellow
Liaison to European Dairy Technology Diploma-Holders Association.
President, National Phi Tau Sigma Honorary Society (1995-96)
International Dairy Federation (via U.S. National Committee):
Chairman of Pesticide Residues Group;
Member of Fermented Milk Products Group;
Member of Dairy Dictionary Group.