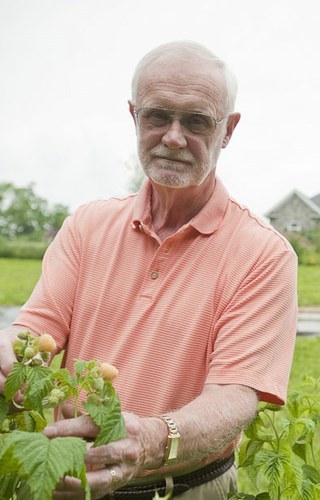 Larry
Campbell
FIG Board Member
Rewards and Recognition Committee
121 Huckleberry Lane
Spring Mills
,
PA
16875
Larry B. Campbell is retired from Hershey Foods Corporation where he held several scientific and management positions in Research and Development over a 33 year career. He has a B.S in AgBioSci ('63) and a M.S. in Dairy Science ('67), both from The Pennsylvania State University.

His professional career included 4 years in research at The Penn State Food Science Department and his expertise included chocolate products, dairy products, syrups and toppings as well as food and dairy processing. Larry was responsible for a number of new products and product reformulations and improvements at Hershey Foods Corporation involving SYMPHONY Milk Chocolate, Brown Cow Syrup (International markets), Top Scotch (Canada), Hershey's Chocolate Syrup, Hershey's Chocolate Milk, and Lite n' Creamy Milk Chocolate (International markets) and other products. His research on Hershey Milk Chocolate flavor led to a continuous manufacturing process and a new chocolate processing plant. Larry has published 15 technical articles and authored three chapters for books and encyclopedias.

Larry is an emeritus professional member of the Institute of Food Technologists (IFT). He is a past chair of both the Philadelphia and Keystone Regional IFT Sections, has chaired numerous committees and served on the National IFT Council. He served on the Board of Directors of PMCA – An International Confectionery Association where he was also President, Chairman of the Board, and Chair of the Research, Scholarship and Education Committees.

Larry has been very active in support to Penn State University. He is a member of the Nittany Lion Club and The President's Club. He is a life member of the Penn State Alumni Association where he served on  Alumni  Council, and the College of Agricultural Sciences Alumni Society where he is a past president of the Board of Directors. He is a founding member and a past president of the PA Food Industry Group. He is a member of Phi Tau Sigma, Gamma Sigma Delta and The Armsby Honor Societies. He was honored by the College of Agricultural Sciences as an Outstanding Alumnus in 1997. He and his wife endowed the Larry and Lisa Campbell Family Scholarship in Agricultural Sciences to benefit students from Greenwood High School and Perry County. He has also was honored by the Penn State alumni Association with it's Volunteer of the Year Award in 2011.

Over the years he has held leadership positions in a number of community and church organizations. Larry was a Loaned Executive with Capital Area United Way and chaired a committee with the PA Association for Gifted Education which developed "LET'S GET REAL – Solving Real Life Business Problems", a competition for school students. He also served on former Governor Tom Ridge's Technology 21 Initiative and participated in the Capital Area Math/Science Alliance.

Larry is married to Elizabeth A. Zander (PSU '88). He has three grown children and four grandchildren.