Aimee Taylor Receives 2001 Outstanding Recent Alumni Award
Posted: November 21, 2008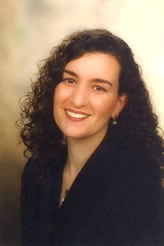 Aimee Taylor
Aimee (Eopechino) Taylor of Lititz received a 2001 Outstanding Recent Alumni award. According to John Floros, head of Penn State's Department of Food Science, Taylor has been a valuable Penn State supporter, mentoring students and participating in a wide range of activities with alumni.
Taylor works at Hershey Foods as a senior research scientist, formulating new confections. As part of a team, she participates in the entire development process, from working out the formula for a new candy product to making it in the plant.
According to Larry Campbell, staff scientist at Hershey Foods and president of the alumni society, Taylor is a highly dedicated professional and volunteer. "In less than six years, Aimee has established herself as a leader in the food industry and as a tireless volunteer for Penn State and professional and civic organizations."
As a Pennsylvania Governor's School graduate, she serves as a director of the Center for Excellence in Education. She earned her bachelor's degree with honors in food science in 1994 and a master's degree in food science from Cornell University in 1996.
Department of Food Science
Address
202 Rodney A. Erickson Food Science Building
University Park
,
PA
16802
Directions
Department of Food Science
Address
202 Rodney A. Erickson Food Science Building
University Park
,
PA
16802
Directions