Kamesh Ellajosyula Receives Penn State's 2007 Alumni Achievement Award
Posted: November 21, 2008
Kamesh Ellajosyula is general manager of India Product Solution Centre for Rich Kwality Products, an international business venture of Rich Products Corporation of Buffalo, New York.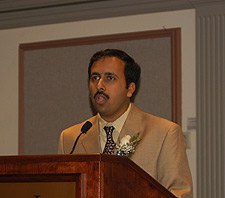 Kamesh Ellajosyula, general manager of India Product Solution Centre for Rich Kwality Products
The recipient of several scholarships and research awards while at Penn State, Ellajosyula's thesis research on the destruction of gram-negative pathogens (E. coli and Salmonella) in fermented foods was used to craft new food safety regulations for the fermented meats industry and the U.S. Department of Agriculture. Ellajosyula's research showed that through the interaction of fermentation pH, heating temperature, and time, foodborne pathogens like Salmonella and E. coli bacteria could be destroyed in fermented sausage products.
Ellajosyula started with Rich Products as a food safety and stability scientist, was promoted to leadership roles with the Global Research and Development Management Office, Supply Chain projects, and new product research and development. Ellajosyula was recognized with Rich Product Corporation's "Wall of Fame Award" for breakthrough innovations to eliminate process problems, playing a key role in implementing multi-million dollar cost reduction initiatives, and establishing a stage gate review process for new product development.
Ellajosyula received a bachelor's degree from Andhra Pradesh Agriculture University in India in 1994, a master's degree in food science from Penn State in 1998, and a master's degree in business administration from the State University of New York at Buffalo in 2005. Business First, Buffalo's business journal, recognized him with its "40 Under 40 Award" in 2002. He has been a member of Gamma Sigma Delta, the agriculture honor society, since 1997 and Beta Gamma Sigma, the international business honor society, since 2005. In 2004, he was recognized with the College of Agricultural Sciences Outstanding Recent Alumni Award.
Source: Penn State Alumni Association
Department of Food Science
Address
202 Rodney A. Erickson Food Science Building
University Park
,
PA
16802
Directions
Department of Food Science
Address
202 Rodney A. Erickson Food Science Building
University Park
,
PA
16802
Directions