Patrick J. Lawler Honored as 2006 College of Agricultural Sciences Outstanding Recent Alumni
Posted: November 21, 2008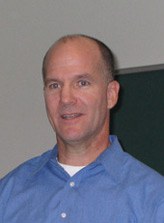 Patrick J. Lawler
Patrick J. Lawler of Cockeysville, Md., has been recognized with the 2006 Outstanding Recent Alumnus Award by Penn State's College of Agricultural Sciences. Lawler, senior scientist in charge of ingredients, commercialization and flavor stability at McCormick and Company, Hunt Valley, Md., is responsible for addressing the technical challenges across all of the company's business and product divisions. He draws upon a strong background in flavor and ingredient research, product development and management, which have helped him to achieve success in the food industry.
Lawler earned his bachelor's (1982), master's (1984) and doctoral (1997) degrees, all in food science, from Penn State, where he began his study of lipid ingredients while conducting graduate research. He has continued to investigate an array of food ingredients and flavors throughout his industry work.
Lawler began his career in 1984 as a food technologist and head of new products and technology assessment for American Home Foods in Milton, Pa. His work included developing packaging and processing methods for shelf-stable pizza products, pasta sauces and grating cheeses, as well as developing a proposal to evolve the company's sensory evaluation program. While pursuing his Ph.D., Lawler served as technical director of product, process and business development for Land O'Lakes and Food Traditions and Technologies, both in Northumberland, Pa., developing products and manufacturing procedures for protein-fortified drinks and a variety of dips and sauces.
Lawler has worked at McCormick and Company since 1997. Before advancing to his current position, he was manager of flavor applications and directed product development for McCormick's Frito Worldwide Division. In his time with the company, Lawler has directed the building of a new food technology lab for flavor applications, coordinated ingredient and manufacturing troubleshooting, and directed customer contact initiatives. Recently, Lawler was appointed to a new consumer product position and is now responsible for process development and commercialization of a proprietary and novel food delivery system.
Lawler is an active member of the Institute of Food Technologists, for which he is councilor of the Maryland Section and past-chairman of the Keystone Section. He is also a member of the American Oil Chemists' Society and the American Chemical Society.
Department of Food Science
Address
202 Rodney A. Erickson Food Science Building
University Park
,
PA
16802
Directions
Department of Food Science
Address
202 Rodney A. Erickson Food Science Building
University Park
,
PA
16802
Directions