Bookbinder Recipient of 2014 Undergraduate Student Leadership Award
Steven Bookbinder, a senior in Food Science, is the 2014 recipient of the Food Industry Group Undergraduate Student Leadership Award. The award was presented November 1, 2014 at the Food Industry Group Fall Membership & Board Meeting during the Annual Food Science Tailgate.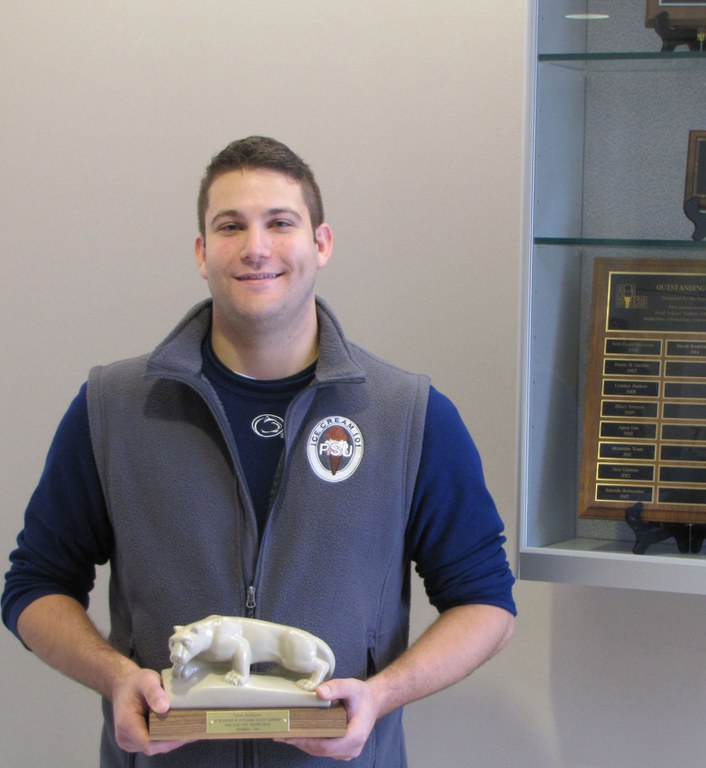 Steven Bookbinder, senior in Food Science
Steve is an outstanding student and member of the Presidential Leader Academy. As a member of the Academy, Steve participated in a semester-long course taught by the University President and Dean of the Schreyer's Honors College. Steve founded and serves as president of the Penn State Baking Club, which has grown from 5 members to over 650 students today. The Penn State Cooking and Baking club worked collaboratively with the March of Dimes to organize a fund raising banquet to support the Penn State Chapter. In addition, Steve founded the Penn State Movember (Mustache-November) organization in honor of the late Dr. Chris Raines. The organization strives to raise funds and awareness for men's health initiatives on campus. Steve has served on Ag Student Council, and is active member in the Food Science Club.
In the summer of 2013, Steve completed an internship with Animex Foods, the largest meat processor in Poland. As the first international intern at Animex, Steve shadowed the president of red meat operations in his administration of over 17 different processing plants across the country. As part of his responsibilities, he assisted in solving recurring packaging and quality issues and contributed to the research and development operation for meat products in two pork processing plants.
Steve is described as a student who shows leadership beyond his years. He is quick to assist his peers and engages with each and every one of his classmates.
Department of Food Science
Address
202 Rodney A. Erickson Food Science Building
University Park
,
PA
16802
Directions
Department of Food Science
Address
202 Rodney A. Erickson Food Science Building
University Park
,
PA
16802
Directions